Let's learn about the world's best ST25 rice varieties
Let's learn about the world's best ST25 rice varieties
Let's learn about the world's best ST25 rice varieties
ST25 rice belongs to the ST fragrant rice line - a famous specialty of Soc Trang. ST25 makes a strong impression thanks to its delicious quality, high nutritional value and many outstanding benefits for health. Let's join EcoLife rice shop to discover the wonderful things from the world's best rice variety! Hotline: 0932 788 299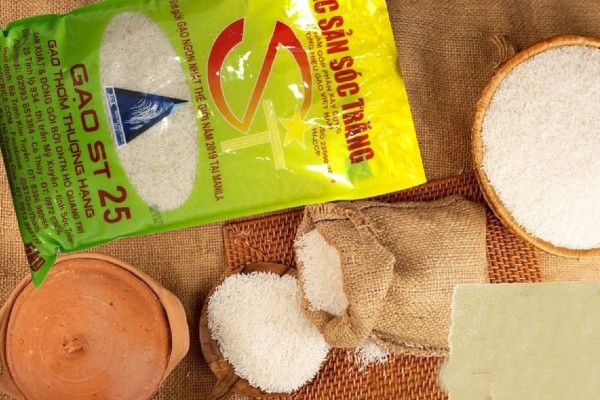 1. ST25 rice research journey of the engineer Ho Quang Cua
Soc Trang 25 fragrant rice varieties are studied and selected from traditional delicious rice varieties. This is the research and improvement of rice varieties by the group of agricultural engineers of Soc Trang province, in which the head is engineer Ho Quang Cua and many enthusiastic colleagues are Dr. Tran Tan Phuong, Master Nguyen Thi Thu Huong.
When we hear about the journey to the title of the best rice in the world, surely all of us admire the talent, will and enthusiasm of this engineer. This is a long journey with more than 25 years of hard work, unmanageable research, challenges, and inevitable failures.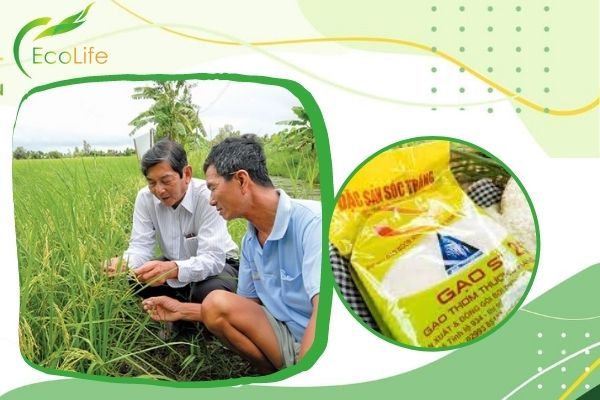 He is the son of the land of Soc Trang, which is known as the " capital of delicious rice ". In his subconscious, engineer Ho Quang Cua has always nurtured an aspiration to develop the world-class home rice breed.
Since 1991, engineer Ho Quang Cua has started to join the research team led by the Mekong Delta Rice Institute in collaboration with Can Tho University to collect and test the famous traditional fragrant rice varieties of Vietnam. And from there, the desire to create high-end fragrant rice varieties for Vietnam in him resurfaced.
On a morning visiting the field, he came across strange, beautifully elongated rice plants. These were the first mutants for his later hybrid work.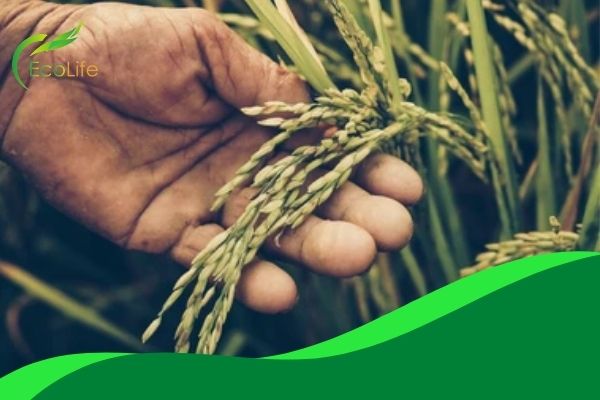 From that accidental discovery, he began collecting and conducting experimental planting. The selected rice variety criteria are fragrant, beautiful seeds, for high productivity and adaptability to the transformation of good habitat. He used many hybrids to select the ones that could have outstanding advantages to put into production, from which a series of ST fragrant rice varieties were born.
ST fragrant rice varieties have been specifically recognized by Ministry of Agriculture and Rural Development as national rice varieties and put into mass production such as: ST3, ST5, ST19, ST20, ST21,.... The most successful is ST24, ST25
Not stopping at researching and developing rice varieties, engineer Ho Quang Cua also regularly promotes ST fragrant rice brand through exhibitions, local and domestic competitions and has gained a high position in the domestic market.
After the success in the country, in 2017, the team of engineers Ho Quang Cua decided to bring ST24 fragrant rice to participate in the "world's best rice" contest held in Macau (China). With outstanding qualities such as: short days, bring high productivity, elongated rice grains, beautiful white, quality of fragrant rice grains. ST24 excelled in the top 3 at the competition, these are the initial successes that help the team of engineers have more motivation in their research journey.
Not falling asleep in the victory, the team of engineers continued to work hard to research and breed to produce the next ST rice generations and more complete.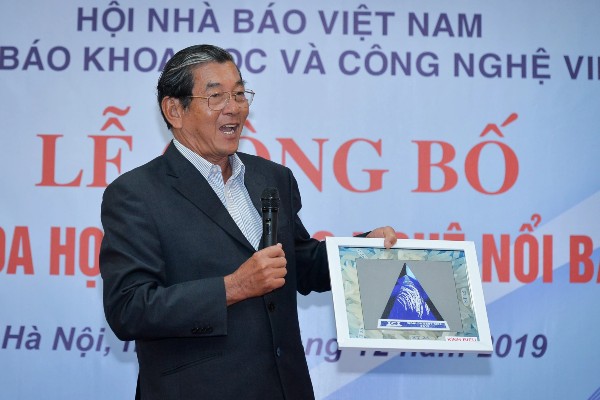 In 2019, he continued to bring his "children" to participate in the "world's best rice" competition in Manila Philippines. And the ST25 rice variety has excelled over the delicious rice varieties of Thailand, India, Cambodia,.... to win the first prize in the competition. The event not only marked the success of the research engineers but also opened an opportunity to help elevate Vietnamese rice to a new position in the international market.
2. Where is ST25 rice grown the most?
Soc Trang is a fertile land with many famous specialties such as: banh bia, lap xuong, Vinh Chau shallot,... However, when it comes to Soc Trang, the only thing that no matter where you go when it comes to it, everyone knows that it is ST fragrant rice.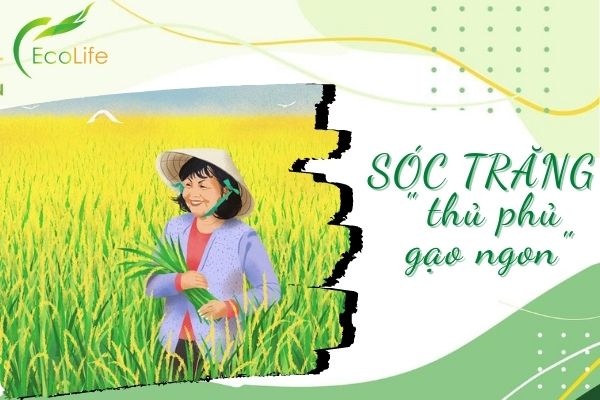 Perhaps, with the characteristics of the heaven given soil, the endless vast rice fields, the system of rivers, canals surrounded. They all worked together to produce a special ST rice with a fragrance, unmistakable taste and nowhere to compare. Soc Trang deserves the title of " capital of delicious rice ".
However, with the economic benefits that this rice variety brings, many provinces in the Mekong Delta region such as Bac Lieu, Can Tho, Ca Mau,.. they have also begun to participate in production. Now, the fields of Soc Trang rice 25 fragrant flowers are everywhere.
3. ST25 rice varieties
As a carefully selected rice variety, ST25 shows many outstanding advantages in the conditions where the soil is frequently contaminated with alum, mangroves. This is a fragrant rice variety, but ST24 and ST25 are quite short days (average from 95-100 days), suitable for cultivation 2 seasons / year. ST25 rice is hard and the tree is tall, strong so it is less likely to fall, the green leaves are long-lasting, so it nourishes the seeds very well. Soc Trang fragrant rice varieties are resistant to the effects of external appearance quite well and for high productivity, not infected with internal stripes, cotton neck drilling or plagiarism. In the land of shrimp crops with picky soil and plant, rice varieties still grow and develop well, resistant to disease, do not need to fertilize a lot of fertilizer, but still give high productivity.
4. ST25 rice recognition characteristics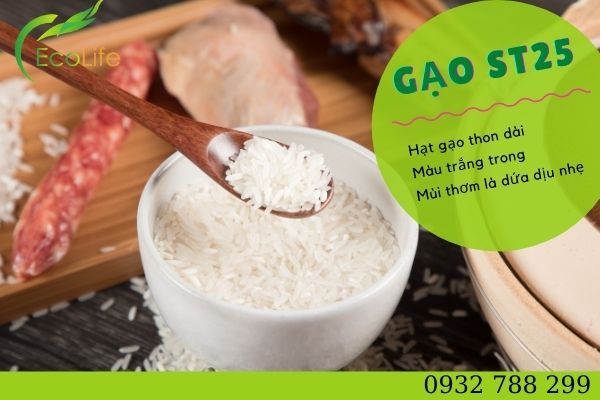 Soc Trang 25 standard rice is glossy white, each grain of rice is long and slender, all grains are alike. Rice grains have a very natural aroma, when putting a few seeds in the mouth to chew, you will hear the sound of crispy teeth sprinkled and the aroma radiates with a very pleasant sweetness.
The world's best rice is famous for its sweet soft specialty, and the aroma spreads when cooked. When the rice cooker has just ripened, just open the lid of the swing, the whole family has smelled the aroma and wants to enjoy immediately.
Although it is sticky rice, but the rice is very dry, drained with moderate adhesion, neither elegant nor too dry.
In particular, this type of rice when left cold still retains a soft, sweet texture as when it was just ripened.
Enjoying ST25 rice must be chewed slowly to feel each grain, each grain is soft, crispy and the aroma of pineapple leaves mixed with the sticky smell. In particular, the rich sweetness at the tip of the tongue is very separate and can hardly be expressed in words that can only be felt clearly.
>>> Address to buy genuine ST25 rice
5. Why we need to eat ST25 rice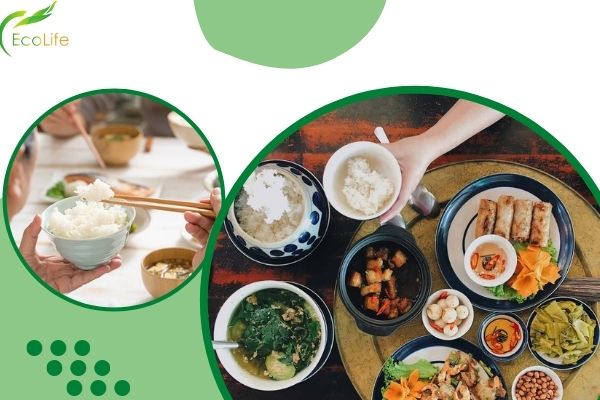 Source of healthy carbohydrates:
Carbohydrates are an important factor in metabolism and provide energy for our body to function. When the body is deficient in carbohydrates, the central nervous system is weakened and the organs in the body will not be given enough energy for living activities. ST25 rice provides the perfect amount of carbohydrates for our body.
Soc Trang 25 rice contains more fiber than conventional white rice on the market today. This has contributed greatly to the normal functioning of the body. Fiber will help regulate stable blood glucose levels, so diabetics can use ST25 rice in moderate amounts without worrying about a sudden increase in sugar after eating. Fiber also supports the digestive apparatus to work more smoothly and prevent constipation. In addition, fiber is also a powerful aid for protecting a healthy heart.
ST25 rice contains B vitamins that improve metabolic rate and enhance cell production for the body. Therefore, it helps to keep the body healthy.
Provide the necessary minerals such as calcium, magnesium, selenium...
The nutritious micronutrients found in ST25 rice such as calcium, magnesium. selenium... It will contribute greatly to the functioning of the organs in the body.
6. How to choose the best ST25 rice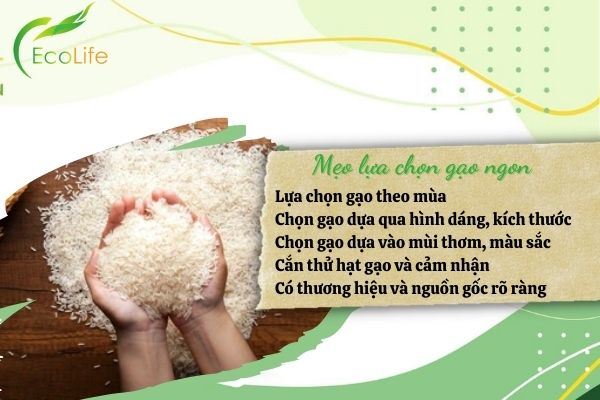 Seasonal rice selection
Depending about the weather, climate, the frequency of rain and sunshine will be suitable for each different rice variety. To ensure that the plant grows, grows well and gives the best quality it is necessary to know how to choose the cultivation season accordingly.
ST25 rice is usually sown in the spring and summer seasons. However, according to many people, the best rice grain is cultivated and harvested in the spring winter. Because of this time, the rainy climate is harmonious, microorganisms in the soil grow well. Rice plants are fully supplied with water and absorb natural nutrients to grow in the best way. Therefore, the cultivation process uses fewer chemical fertilizers, pesticides and obtains clean, nutrient-rich rice and gives the quality of delicious rice grains in accordance with the standards.
In the winter and spring season due to unfavorable weather conditions, the aroma and taste will fade a little. However, there will not be too much difference in the taste as well as the quality of rice between the seasons.
Choose equally sized rice, without breaking
It is not recommended to choose rice of different sizes large and small because it is very likely that they have been mixed with other poor-quality rice.
Choose rice with intact seeds, not broken. Since they may not be harvested enough days or the drying process does not ensure proper humidity, leading to a decrease in rice grain grade, the quality is not guaranteed.
Choose rice based on aroma, color
ST25 rice has a gentle pineapple leaf aroma, sometimes when smelling into a very pleasant feeling. It is not recommended to choose rice that smells too strong, harsh, or strange smell because they may have used chemicals that create artificial odors.
ST25 rice has a beautiful white color in nature. It is not recommended to choose rice that is too white to look unnatural because they may have been bleached. And it is also not recommended to choose the type of rice that is dull because it may have been left for too long or improperly stored leading to moldy conditions. Therefore, they do not guarantee deliciousness as well as retain the inherent source of nutrients.
Bite the rice grain and feel it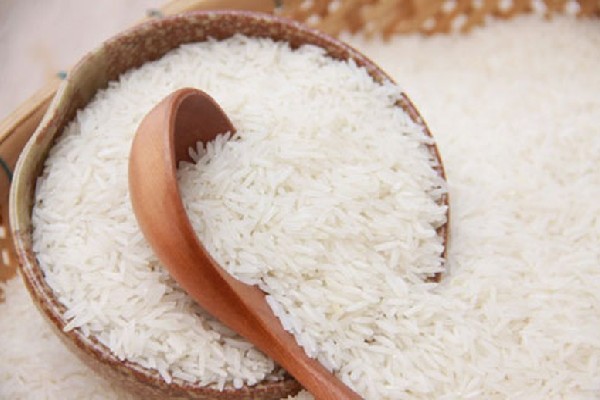 It is common for many people to choose rice. Put a few grains of rice in your mouth and chew to feel it. Delicious rice is that they ensure crunch, when chewing the sticky starch is slightly sticky teeth, the rice grains have a sweet taste and no strange taste.
Choose

where to buy ST25

to buy rice with a clear brand and origin
ST25 rice is available on the market with many different brands. You should choose rice shop nearby reputable sales addresses, products with clear brand names, provide full information about products to avoid buying the wrong counterfeit goods, poor quality imitations.
After you have selected the delicious rice, you must know how to preserve it to avoid being invaded by insects or being moldy affecting their taste as well as their quality. It is absolutely not recommended to place rice in wet places or places with high temperatures such as: near the kitchen, near the microwave....
Some tips for preserving rice you can refer to such as: stored in the refrigerator, stored with sealed plastic containers, use garlic, salt or dried peppers to repel insects,...
>>> Authentic ST25 Sticky Rice Of Uncle Cua's House
7. How to cook rice from ST25 rice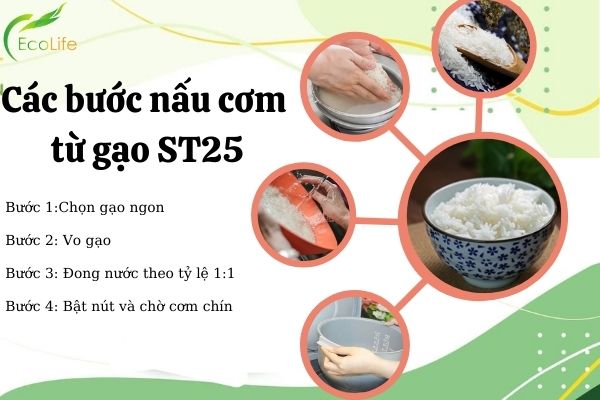 Step 1: Choose rice (Apply the above tips to choose for yourself the most delicious and quality products)
Step 2: Hum rice
The washing rice step will help remove the excess starch that remains on the grain so that the rice does not stick, become pasty and dry. At the same time, help the rice clean the dirt during the grinding and processing process. Hum the rice lightly with once or twice the water, do not rub or buzz too many times will lose nutrients.
(Tip: You can take advantage of rice water to make a skin mask to help skin tone, remove blackheads and sebum extremely effectively.)
Step 3: Water to cook rice
The recommended amount of water when cooking rice from ST25 rice will apply in the ratio of 1 part of rice: 1 part of water. However, the rate may decrease depending on the type of rice.
For ST25 rice products participating in export, it will undergo very thorough drying, low humidity to ensure long-term storage. This type when cooking should note to add more water than usual. The ratio can be 1 part of rice: 1.2 part of water to make the rice more soft and sticky.
For ST25 rice products only served in the domestic market, rice grains will be retained with higher humidity. In the process of cooking rice, just measure the water in the right ratio of 1 part of rice: 1 part of water will give delicious rice properly.
Step 4: Cook rice
Put in the rice cooker, turn on the "cook" button and proceed to cook like normal rice until the rice cooker switches to "warm" mode. (Note, during cooking, absolutely do not open the lid of the pot.) Wait about 10 minutes for the rice to be cooked evenly and drained more. Before eating, it is recommended to stir the rice so that they are more porous.
With the way of cooking rice in this proportion of water will ensure softy, the right standard of ST25 grains.
8. How many types of ST25 rice.
With each different farming method, ST25 rice will be divided into 3 main types:
Organic ST25 rice: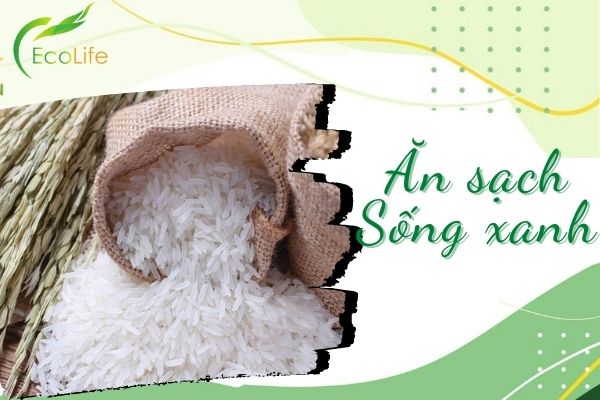 The use of "dirty" foods will cause toxic substances to seep into the body and accumulate, which in the long run will cause many dangerous complications for health, the most typical of which is cancer. Therefore, today the trend of using organic foods is becoming popular and popular in the market. Organic ST25 rice was born quickly attracted the attention of Vietnamese consumers.
From the selection of arable land, the use of irrigation water to the process of fertilization and eradication of cashew herbicides are strictly controlled. The soil must be selected in clean places, not near factories, factories, waste storage areas. Absolutely do not use chemical fertilizers, herbicides for a period of 3 years before planting. Irrigation water sources must also ensure that they are not contaminated. Rice plants mainly absorb nutrients from remnants of previous crops, animal manure, compost, or the use of organic fertilizers. Use natural remedies to eliminate pests that harm crops. Organic ST25 rice is considered a safe product for health, helping to balance the ecosystem and increase the value of the product.
With these values, organic ST25 rice is sold for 3 to 4 times more than regular rice. The price of organic ST25 rice now averages from 80,000 VND / kg. However, in fact, organic ST25 rice is grown very limited and not enough to serve the needs of the current market. Therefore, you must research thoroughly before buying them to avoid labeling " organic " but the quality is not guaranteed.
ST25 rice – shrimp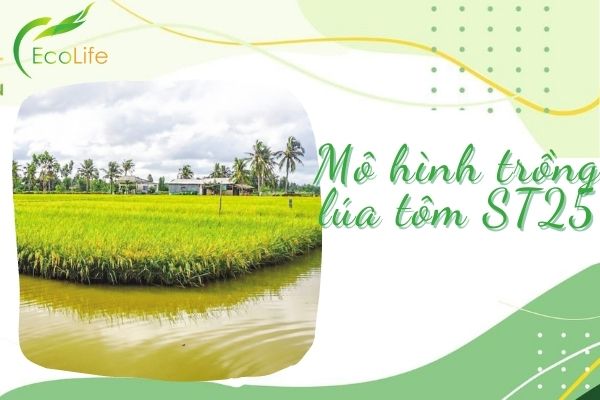 This is a farming method that is being encouraged to develop widely in the Mekong Delta provinces. This model is a combination of traditional shrimp farming and rice cultivation in some saltwater areas. After a shrimp harvested season, the farmer will proceed to grow ST25 rice. Rice plants mainly absorb nutrients from the waste of the previous shrimp season, minimizing the use of fertilizers and pesticides so as not to affect the next shrimp farming season. Accordingly, shrimp rice is considered a healthy food and almost like organic rice. However, ST25 shrimp rice can only grow one season per year, so the quantity is also very limited and not enough to supply to the market.
Regular ST25 rice:
This ST25 rice uses the usual mode of production, they are often understood as the type of rice produced by the method of using pesticides, chemical fertilizers but at the permissible level and still ensuring safety during use. Before harvesting, the rice must stop spraying and fertilizing for about 30 days so that there is no residue of chemicals in the product. Rice is still closely checked for quality from planting, production, packaging, and storage. They must meet the standards of quality, food hygiene and safety to be able to circulate in the market.
9. How much does ST25 rice cost?
Currently, ST25 rice is being sold at different prices depending on the type. With EcoLife rice shop, it is offering authentic Soc Trang 25 rice at the price: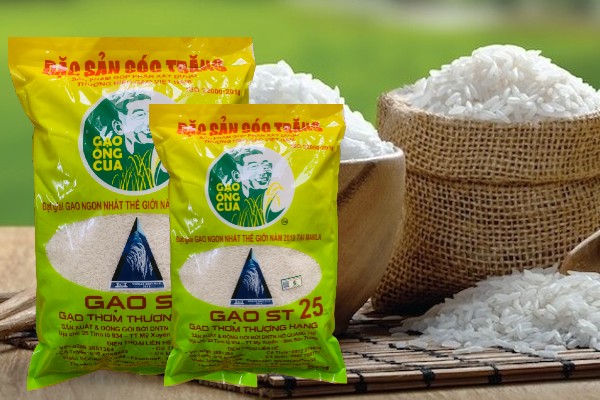 Authentic ST25 rice Uncle Cua

: price 36,000 VND / kg (in HCM) and 40,000 VND / kg in Hanoi. This is the best-selling rice on the market today. The product is produced directly by Ho Quang Tri Private Business (son of engineer Ho Quang Cua). Fresh rice is purchased directly from farmers in Soc Trang provinces, then imported directly into the factory to carry out production steps. Equipped with advanced machinery system and a team of highly skilled production experts. The quality of rice grains when finished products ensure food safety and hygiene standards, still retaining the deliciousness and nutritional value inherent.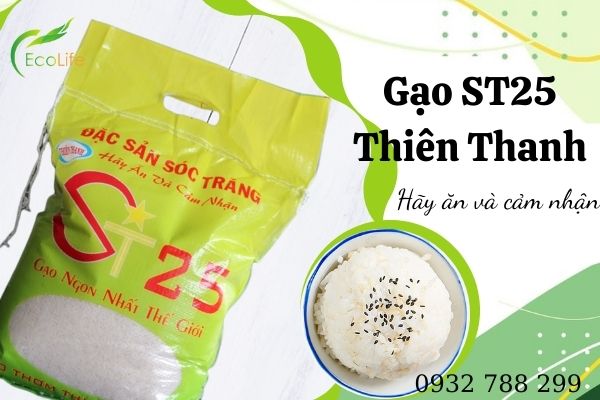 - ST25 Thien Thanh rice price 32,000 VND / kg: Although not quite as famous as ST25 Uncle Cua rice in the domestic market, ST25 Thien Thanh rice is very successful abroad. The product has quickly gained popularity in fastidious markets such as: UK, USA, Canada,....
10.

Where to buy ST25 rice
Finding a safe quality ST25 rice store shop is essential for many consumers today. With many years of operation in the field of clean rice business, EcoLife rice shop has become a shopping stop for many customers.
EcoLife rice trader shop system nationwide:
+ Where to buy rice in Ho Chi Minh Area:
District 1

District 2

District 3

District 10

Binh Thanh District

Thu Duc District

Phu Nhuan District
+ Where to buy rice in Hanoi area:
Thanh Xuan District

Ha Dong District

Dong Da District

Cau Giay District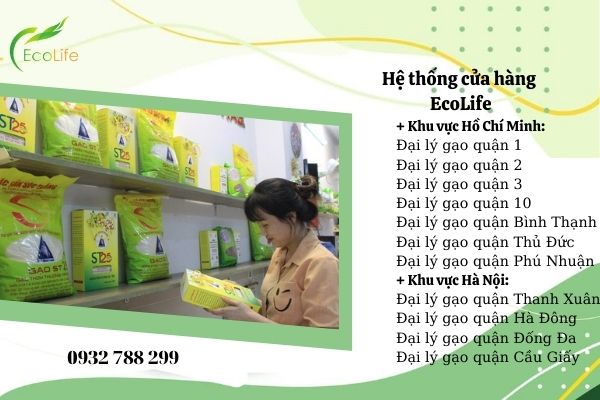 Currently, EcoLife rise shop is providing online rice ordering service to deliver rice to the house on the same day. You just need to call the hotline directly: 0932 788 299 or 0904 667 858, we will quickly contact our nearest store to conduct a home delivery.
Product quality commitment
With the aim of bringing joy and happiness in every meal of Vietnamese families, EcoLife rice shop traders always try to provide the most delicious and quality products to consumers. EcoLife clean rice store system always assures you:
Supplying rice of clear origin

Absolutely do not use by-products during processing such as: coloring chemicals, odors, bleaching or polishing.

No preservative chemicals

Deliver the right product description, on time, the right person, the right address and the right amount